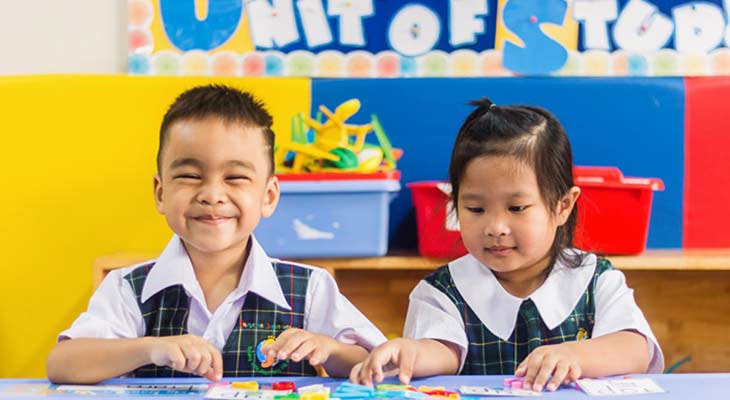 EARLY CHILDHOOD PROGRAMME
Educational experts believe that children learn better when new skills and ideas are taught to them using a theme or a topic.
Footprints International School's Early Childhood Curriculum is designed around different topics. Each month, pupils have a different Science or Social Studies unit which they focus on. Within this topic the teacher covers all the other subjects in a cross-curricular manner. Pupils are given time to be creative and innovative during drama and role playing and rhythmic/music time. We also designate time for sensory and fine motor skills, and core subjects such as phonics, maths and story time.
Topics and Learning Goals guide the teacher's planning. They also use the internet and other available activity guides, materials and resources to plan their lessons.
MATHS
Pupils in Nursery and Preschool learn shapes, numbers, counting, patterns, classification of objects, writing numbers and many other maths concepts through hands-on learning. PreK2 uses the Early Bird math Textbook A, a book adapted from Singapore, while PreK1 and Nursery are using a collection of maths worksheets designed by the school itself. Besides these, teachers also use many hands-on activities to teach these ideas in an age-appropriate manner.
Teachers also focus on writing numbers 0-9 correctly, as these form the basis of all English numbers. Calendar time and other practical activities are used to encourage confidence with maths. Kindergarten progresses to the next Early Bird Math Textbook B. Concepts are taught with hands-on activities for children to demonstrate understanding and develop thinking skills in an engaging and fun way. Children count, represent and write numbers 1-100 and later on move up to counting by groups of 10's and skip counting by 10's, 5's and 2's. The concept of addition and subtraction is followed up by hands-on activities and written exercises. Solving problems are presented through stories and finding solutions comes in various methods.
SCIENCE AND SOCIAL STUDIES
Learning Goals are set to teach students about the world around them, and to encourage them to learn, think and to ask questions. Students study one topic for 4 to 5 weeks, and cover subjects such as Community Helpers, Animals, Materials, Transport and Weather. Teachers use different activities to teach this curriculum, and also use these topics to support maths and language arts. For Kindergarten, teachers are guided by key concepts and key words for each monthly theme. Interesting topics about school, outer space, cultural activities, living things, the body and emotions are presented in various ways using videos, stories, music, crafts and role plays.
LANGUAGE ARTS
Language Arts in the Pre-school grades is focused on developing Pre-Reading and Pre-Writing skills. Teachers use story books, drawing pictures and storytelling to develop children's ideas of writing and reading. Alphabet skills are taught using the Zoo Phonics curriculum and are integrated with Reading A-Z, a curriculum designed to teach children the sounds, letters and early use of the English alphabet. Teachers also teach correct letter formation as pupils learn to write and recognize each letter of the alphabet. This is a very hands-on approach to Language Arts.
Pupils are provided with workbooks compiled by the school and writing books to draw stories and pictures, as well as a mini whiteboard for classroom activities. Teachers also use worksheets and other credible copied material as necessary. Please note that pupils are not expected to be able to read and write by the time they finish PreK1. We expect that at the end of PreK2, pupils should be able to write the letters of the alphabet and their names and can begin reading basic word families.
Pre-school is about teaching pupils the very important skills they need to know before they learn to read and write fluently.
Compassion
Determination
Responsibility